Nadia Hernandez Senior Goodbye
I imagined the day where I would have to write this, and I imagined my last day in journalism class where we would be all together recounting the past four years like they were yesterday. I dreamed of how my friends and I would come together for our last night as high schoolers, and I thought of everything I would say to my teachers when I walked across the stage for graduation. I planned everything out, and then in a matter of months, it was all taken away. Needless to say, this isn't how I imagined any of the end of my senior year to be.
Even though the world is so crazy, I can't say there isn't anything to be proud and appreciative of. I walked into journalism class my sophomore year completely oblivious to the amazing world that I'd be welcome to. I was instantly inspired to write about everything around me. Yet, I was a mess. From the start, Mrs. Smith was there to guide me through all my confusion. She was always there to help, inspire, and guide me toward success, both inside and outside of journalism. Without her, I wouldn't have earned the honor to be the Illinois Free Spirit Representative in the Al Neuharth Free Spirit Journalism Conference. Without her, I wouldn't have found my passion for journalism. I owe all m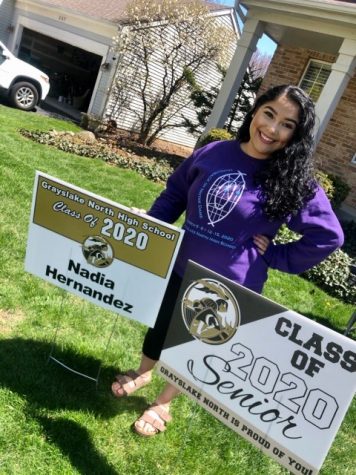 y growth and success to the wonderful Mrs. Smith.
I can't imagine a world without journalism class. I don't know how I'm going to function without seeing my wonderful, creative, and inspiring co-editors, Rhiannon and Gracie. They are one of the most hardworking people I know, and I'm going to miss planning the monthly issues, getting distracted with conspiracy theories about the blood drive, running around trying to get last minute interviews, and driving Mrs. Smith insane. I wish we could have had our last day together. I wish them all the luck and success in their lives, and I'll always be cheering them on from the sidelines.
High school brought me so many opportunities and chances, I don't know if I could count them all. I know that the biggest one was giving me the chance to find myself. I know that no matter where I go or what I do, I'll stay true to myself. I'm so grateful that journalism, the people, and Mrs. Smith was a key part in realizing my passions and dreams. I hope that I can make all of you proud.
Leave a Comment