Cup of Commentary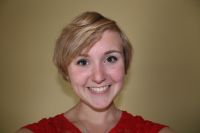 There was something lurking on the shelves of my neighborhood Jewel-Osco during early January that caused a series of chills to run along my spine. I cringed as I made my way into the aisle, all blooming with the same color and shape: red hearts. The life-size grinning bear seemed to cast a shadow over me; I ducked down and hurried over to the far end of the aisle to retrieve my chocolates before leaving.
Valentine's Day is always an interesting holiday, as there are many different types of people during this special day: those who blush all day with their significant other and those critical of publicly displaying affection.
As teenagers, and perhaps more so with the female population, we crave this sacred day because in some cases, it gives us a chance to be extra sentimental with our significant other (as if some of us aren't already).
But, perhaps this isn't only a day to celebrate with your romantic partner. When I was younger, my mom would always set up little gift bags of chocolates and other candies for my sister and I, just as a reminder of her care for us. Although I may have outgrown this tradition, I now find myself signing cards and writing messages for members of my family before making a mad dash toward Jewel for my boyfriend.
On Valentine's Day in the fourth grade, I received a special delivery in class. The receptionist had a bouquet of flowers with a little card embedded in the buds. She had called my name, and I ran to her, thinking I had a secret admirer. I read the card, smiling from ear to ear. It was from my dad, who I only see during summer and school breaks. It was more than receiving any childish Valentine from my crush or an emotional love poem; it was going the extra mile to make his daughter happy and reminding her that he's there for her.
Sometimes, it's the love that comes from the most unexpected that leaves the biggest impact.
Leave a Comment