Football wins conference, advances to playoffs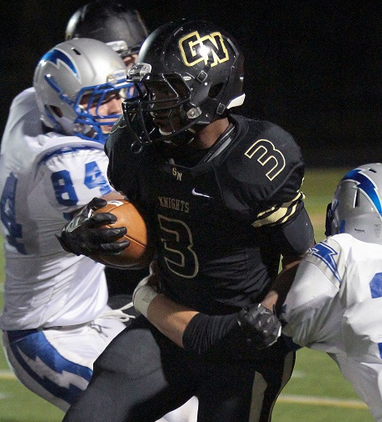 The football team advanced to the IHSA playoffs for the third year in a row after a strong finish to the season.
This season, the Knights won the conference title with their record of 6-3, with key victories over the talented Prairie Ridge, Normal West, and Woodstock North programs. They lost a hard fought game against St. Francis in the first round of playoffs.
"This year, the team's greatest performance wasn't just one single game, it was winning the Conference title. No one game can top that goal that we achieved," varsity wide receiver Elijah Atwater said.
The last game of the regular season was a 49-29 victory over Woodstock North; a game that was the utmost important in their future.
"We went in playing [against Woodstock North] for the conference championship and a better seed in the playoffs. Both the defense and offense played really well," said varsity quarterback Merrick Gentile.
With the win over Woodstock North, the football team qualified for a better seed within the IHSA playoffs.
"This post-season we looked to win North's first ever playoff game and make a run in the playoffs," Atwater said.
Leadership has been a key factor in keeping the team playing at their level of performance.
"Leadership affects our team every day. We are blessed because of the amount of leaders on the team. It helps our performance positively because good leadership can make a good team even better," Gentile said.
Titus Booker, Merrick Gentile, George Deligiannis and Elijah Atwater all were selected as team captains and stepped up as leaders on the team.
"I really stepped up as a leader this year when I started playing both ways and was really put in situations where my teammates or coaches needed me," Atwater said.
The football team closed the season after their third playoff appearance in a row and look forward to improvement in the upcoming post-season.
Leave a Comment