Boys soccer wins against Antioch, placing them fifth in the NLCC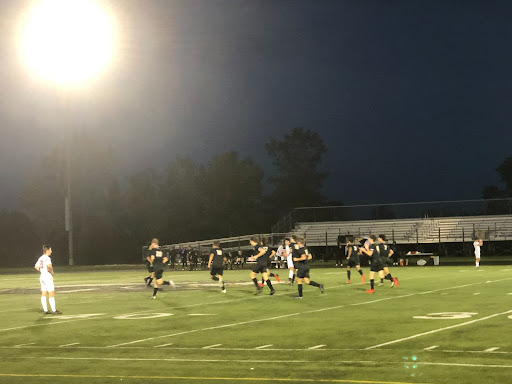 The varsity boys soccer team bounced back with a 2-1 win in a nail-biting finish against Antioch Community High School. Following this game, the Knights have a 4-10-1 record, putting them in 5th place in the NLCC. 
The team rallied back and forth in the first half, fighting for every possession. As Homecoming week started to wrap up, today's game was known as "Pack the Stands," and many students showed up to show their support for the Knights. Head coach Adam DeCaluwe was pleased about the game and how well the team had come together. 
"We pushed them to believe in each other in these moments where it matters. Fortunately, it went in the right direction today. We choose to play a hard schedule. I'd rather play good teams and see where it goes rather than play nobodies and have false confidence," DeCaluwe said. 
Before the game, both schools acknowledged a player from each team for an award. North had selected senior Carlos Chavez for the award. North's game plan was off to a rough start, but got the ball rolling soon afterward. Seven minutes before the half, Senior Captain Owen Holevas scored a goal from 15 yards out to put the Knights in front.  However, in the second half, senior team captain Dylan Clausen went down with an injury. Senior Cooper Perhacs was all over the field from deflecting the ball to attacking.
"It was ultimately up to us to control how the game went, I'll do whatever is needed for the team in order to make sure we win the game," Perhacs said.
Within the first three minutes of the second half, Antioch found a way to score. Surprised by this, the Knights found a way to respond. A group of North and Antioch players surrounded the ball when senior Armen Jerikian scored a goal to give the Knights the lead with five minutes remaining in the game. 
"Some of the calls weren't going our way, especially after the handball. After losing the last game, we needed to make that extra effort to win after losing one of our team captains," Jerikian said. 
Junior goalie Joe Swambar was on fire, diving and saving many opportunities that should have been capitalized. Junior Illija Dupor was fighting everywhere, winning fifty-fifty balls and many headers. 
"Antioch is a team who plays more direct. When you go up and play that header, it doesn't go in their hands. It's just about our guys being tougher in the air and winning the fifty-fifty balls," DeCaluwe said. 
Leave a Comment