Food truck festival raises money for charity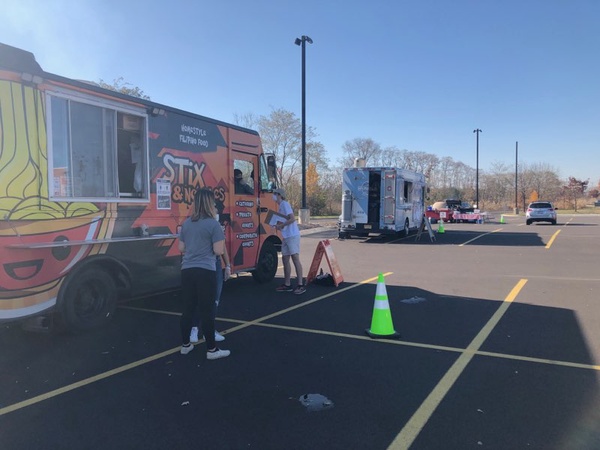 Student Council hosted a socially distanced food truck festival at the Grayslake North parking lot on November 7. The event included five local food trucks, Mama Mia Pizza, My Funnel Truck, I Love Tamales, MJ Coffee Bar, and Stix and Noodles.
"We figured that everyone loves food, and this event was a safe way to get out of the house while supporting local businesses," said Student Council sponsor Meghan Crowley. 
As COVID-19 cases are rising again, safety was especially important for this event. A waiter system was put into place where cars would park away from everyone, and a Student Council member would come to them with a menu.
"Lots of precautions were put into place to keep everyone safe, and we worked with the Lake County Health Department to create a plan. We also had to follow school protocols, and everyone who served food had to wear a mask and gloves," Crowley said. 
Grayslake North students have missed many traditional events that would usually be held by this time of the year, so the festival was attended by the community and students.
"I miss the faculty at North. It was good to get back a sense of normalcy and actually get to celebrate on my birthday with real people. Mama Mia Pizza is a pizza machine," said president of Student Council Charlie Lay. 
This event was not only a good time, but it was going toward a good cause. Proceeds from the event went toward the Make a Wish Foundation.
"We've done lunches for the students at the school before, and we always help and try to feed the community. This was a good cause, and of course, we'd like to come back to the school another time," said Nick Dio, a worker of the family business of My Funnel Truck. 
Entertainment was provided during the event as well, with Slam Funk creating a great performance from 12:00 p.m. – 1:00 p.m.. 
"Slam Funk performed their classic hits and provided great entertainment. We got lucky with a beautiful day and hearing Slam Funk sing Charlie happy birthday 18 times was the best," Crowley said. 
With the event being such a hit, plans for another food truck festival will be put in the works for the spring.
Leave a Comment