College Board adds alternative submission; students experience trouble
Although the College Board reported that less than 1 percent of students couldn't submit their exams, the AP administrators are creating another safety net for students. For the week of May 18-22, students can now submit their answers through a private email in the case that the site may not work.
Though many students feel relief for the extra caution, thousands of students testing from the week of May 11-15 are not eligible to resubmit their tests. This means that their only alternative will be the retake in June.
For senior Kelli Tosic, disappointment overwhelmed her when her AP Computer Science exam would not submit on Friday, May 15. Despite finishing the questions in the allotted time, Tosic will not be given any alternatives to submit her answers until June.
"I do feel very cheated, especially since my work was completed on a time-stamped document, proving that I finished my work within the allotted time. I feel as though I studied hard and did lots of good work for nothing, and it feels very unfair that the only alternative they've given me is to go through weeks of stress all over again," Tosic said. "I'm frustrated that this policy only applies to the second week of exams and not from the first week".
The College Board advised that it was inevitable that students would face technical difficulties. On their website, they gave students tips for troubleshooting, however; they had previously only offered that the make-up testing date will be the next best option in case a student couldn't submit.
"I definitely think that the College Board should have anticipated this, especially since they informed all students technical difficulties would occur and that is why their June retake plan was their fail-safe. I think that this new policy of being able to email your responses if the submit button fails should have been in place since the beginning- there is no reason for it to not have been in place," Tosic said.
Adam DeCaluwe, part of the AP testing team, is keeping contact with the College Board and students to assure that testing goes smoothly.
"We have only had a couple of students have any issues with submitting their exams in this new online AP exam procedure. The testing team tries to do whatever we can do to help support the students and the teachers as they prepare for and take the AP exams.  We are the go-between for the College Board (the organization that does all of the testing and scoring for all standardized testing), the school, teachers, and students.  We help with registration, payments, troubleshooting if needed, and all the organization of the taking of the exams.  This year, we also organized the care packages that went out to each student that was testing," DeCaluwe said.
Although there are multiple testing dates this year, all scores will be available in June. This includes from the original and make-up testing dates.
"As of right now, we are being told that those that take the make-up exams will receive their scores at the same time as the rest of the students.  What we are hearing from the College Board is that there are not that many students who have had to plan to take the make-up exams, so they are not concerned with the number of exams that will need grading," DeCaluwe said.
The College Board will release a specific and unique email for students who cannot submit their responses.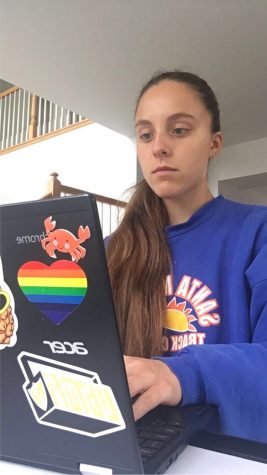 Leave a Comment