Staff delivers signs to the Class of 2020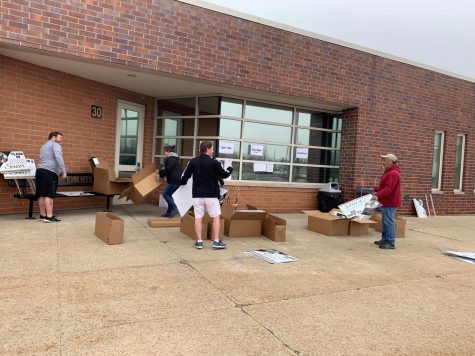 The Grayslake North staff has rallied together to do something special for the graduating Class of 2020 this year by bringing each senior a sign letting them know the school is proud of them. 
Not long ago, the staff of Grayslake North went home to home, sticking graduation signs in front yards to show the seniors that Grayslake North is still there for them. 
"It is important that the students know how much the teachers and all of the staff at North miss seeing all the students at school and how much we wish we could celebrate with the usual end-of-year events and honors with seniors," said secretary Andrea Tompoles. 
It has been very difficult for this year's 2020 class because they haven't been able to say goodbye to high school the traditional way, and the school wants them to know that they understand and sympathize. 
"I can't imagine being a senior right now, and as much as you hate school and you want to be out of school when you're a senior, come march, you want it to be your choice, right? And I think maybe that's it. This wasn't your choice. So to see that you still had all those teachers that meant a lot to you and still thinking about you, I would hope it would mean something. I feel especially bad for senior athletes, you know? Maybe this was their year to make State and now they lost it," said science teacher Joseph Rogalski. 
After receiving the signs, the seniors could also see that the school was thinking of them, and it really meant a lot to them. 
"It makes me feel good and part of the school still even though we aren't participating in it, and not finishing my sport was very tough because I've been doing it for 7 years now and cutting it short was tough. But, I got another sign for the sport. So the signs were a great idea for the school to give us," said senior Gilbert Villalba. 
A lot of care and organizing went into the idea for the signs, as well as getting them to the students. 
"We collected all the senior addresses and divided them by neighborhoods. Most teachers had around 5-7 signs to deliver. I designed the sign, and it was printed at a printer in Gurnee, James W. Smith Printing," Tompoles said. 
When asked to join in, most of the staff decided they wanted to be involved. Everyone came together to do this for Grayslake North seniors. 
"The amount of effort that went into getting the signs and then I think the biggest job was organizing the neighborhoods where the seniors are. And I know that because for my gymnasts, I had to drop off warm-ups, and I had only about ten guys, and that took me a good 20-30 minutes to organize a route that made sense. So I can't imagine with 400 students how long it took them," Rogalski said. 
Overall, these simple signs made the faces of seniors smile and feel appreciated. This idea was met with lots of positive feedback. 
Grayslake North will continue to support and stay hopeful for the Class of 2020,  and as more time passes, the teachers all hope there can be more celebrations than just a sign.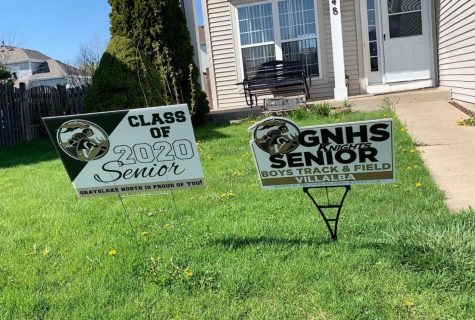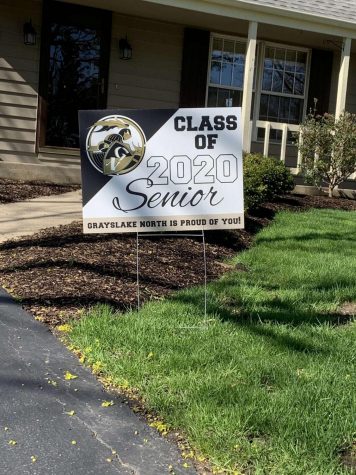 Photo s by Gilbert Villalba and Sean Smith
Leave a Comment