Illinois primaries contribute to national results
The Democratic and Republican primaries have been taking place these past weeks. As results come in, tensions become tighter between candidates fighting to win over the people and delegates. Five candidates have dropped out due to their low numbers, leaving only three more candidates in the Democratic Party, while President Donald Trump wins over all the Republican Party votes. Though the General Election isn't until November, the primaries and caucuses foreshadow the nominations.
"These elections will reveal who will win the nomination in June for each party.  It's important that people will vote now because they'll have a say in who they want their party's nominee to be in November," Government teacher Erin Wise said.
Lake County Clerk Offices website has a tab that will provide all necessary information about the Illinois March 2020 primary. Lake County Clerk Robin O'Connor compares this year's ballots compared to previous years.
"For the 2016 presidential primaries, we had a 44 percent voter turnout in Lake County, which is 183,000 ballots, both from the same day and mail. As of now for early voting, we have 26,000 ballots so far from vote by mail, early voting, and Election day," O'Connor said.
Candidates have dropped out over these past weeks. O'Connor advises that rules apply regardless of who someone voted for.
"A common question we get asked is if someone voted for a candidate that dropped out, whether they can vote again. The answer is no. We abide by federal rules that won't allow for someone to vote more than once," O'Connor said.
Not only are presidential nomination primaries occurring, local and state elections are happening as well.
"Though Illinois is a blue state, we occasionally get a Republican senator or representative," Wise said.
Elections are critical in the campaigning process, and everyone who is registered gets encouraged to vote. In Illinois, 17 year olds get franchise rights if they turn 18 before the general election.
"The people least likely to vote in terms of age are 18-21 year olds. That may be for a variety of reasons, but their future is in the next election," said senior Austin Glass.
For any more questions regarding the Illinois primary, call the Lake County Clerk's office at their new number (847)- 377- VOTE.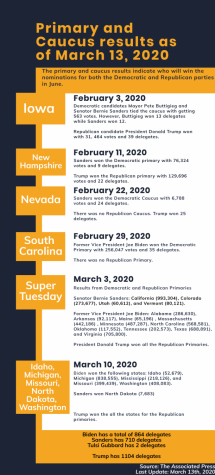 Leave a Comment