Environmental Club creates informative posters
The Environmental Club has put up posters, which are in the form of leaves and Thanksgiving food, around the school with facts on them for students and staff to look upon. These leaves contain facts about why leaves are important to the environment and what the food on your plate does to the environment.
The club has also put up Thanksgiving food, such as turkey, corn and pie, with facts on the such as, "Eat less meat and more of those healthy sides. The meat industry is the number one source of methane gas, which contributes to climate change." They put up these facts as a way to tell people on how they can help.
"The GNHS Environmental Club gets together every Tuesday after school, and we'll have a quick meeting and then head out to recycle. We have our day group that also recycles certain areas of the school so that the afternoon group is able to work on some projects and fundraising. Both groups are amazing," said co-sponsor Christine Applehans.
The club has put up facts around the school in a fun and creative way, and they state the importance of leaves and other fun facts as well.
"The club decided to put up the facts on the leaves and Thanksgiving food as a fun way to share important information regarding these things that really do impact our environment. They did great," Applehans said.
The clubs members all put something in to the club, whether it's something small or making a project
"I love being in the club. It just gives me a feel good feeling every time we go around and recycle, and I also enjoy researching and learning more," said senior Jenna White.
The Environmental Club spends time after researching about different things that could make an impact on the environment.
"The Environmental Club students research on the internet for facts about leaves and how to have a sustainable Thanksgiving, and that's what they came up with. They also searched 'images' to put the facts on, cut them out, and hung them up. It all turned out great," Applehans said.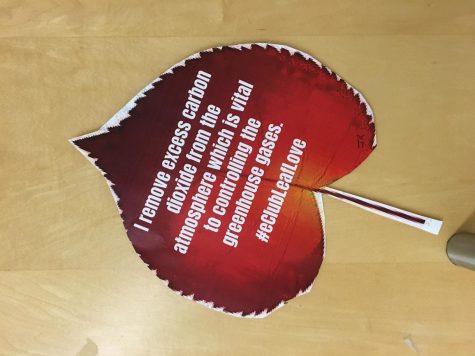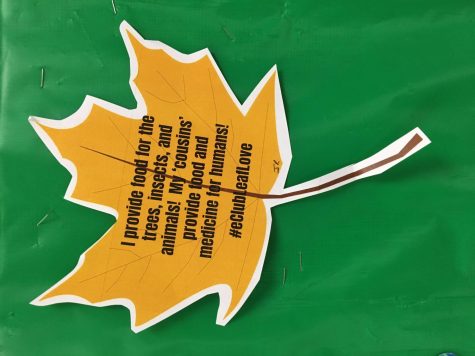 Leave a Comment