Pen and Paper Hosts Annual Coffee House
Pen and Paper hosted their annual Coffee House event in the black box on December 6 where students got to showcase their writing, musical talent and their artwork.
Coffee House had a theme called "Stories by the Fire" this year where they played a nice burning fire on the projector behind the performers.
"We decided with that theme because last year our 'cozy' idea went over really well, so stories by the fire is kind of a really wonderful addition to everything," said MC, Caleb Keane.
There were a lot of things Pen and Paper had to take into consideration while planning for the nights big event.
"We normally just talked about how we are working on the posters, how to get people to sign up and how to get the word out for Coffee House," said performer Lia Wright.
Throughout the night, students got to perform their poems, songs and even stand up comedy and was shown a lot of support from the audience.
"The people that chose to come to Pen and Paper genuinely want to be there and genuinely want to hear people's stories, so I think Pen and Paper does a good job at finding those types of people to come. But I really do think it's the people that really contribute to the environment," Keane said.
Coffee House has always been an opportunity for students to share deeper feelings than what they would usually get to show in a classroom environment.
"I think it's a great way for kids to be able to exhibit their creative side. I like to think of it as a kind of talent show. I think another great thing about Coffee House is the fact that maybe the limits are more braod than when it's not in a classroom, so I think that's awesome. I think it is more of an open venue, and there's not really restrictions as to what people can talk about. But I think that's one of the cool things is that there's not the limitations a coffee house as there would be in a classroom," said Pen and Paper sponsor Julia Burkel.
One of the main factors that go into Coffee House is the fact that there is no judgement held against any of the performers.
"It's just a fun event to go to and you get to share what you've created. The fact that you can share what you're feeling without judgement," Wright said.
All of the proceeds from Coffee House is going to 'Hope for a Day' which is a suicide awareness campaign.
"I think that it is a nice venue of welcoming the holidays and also raising awareness to all of the proceeds that are going to suicide prevention. I think it's great. I think it's nice combining those two ideas together," Burkel said.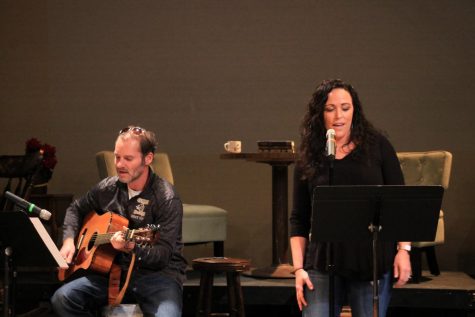 Leave a Comment