Boys basketball finishes Thanksgiving tournament 2-2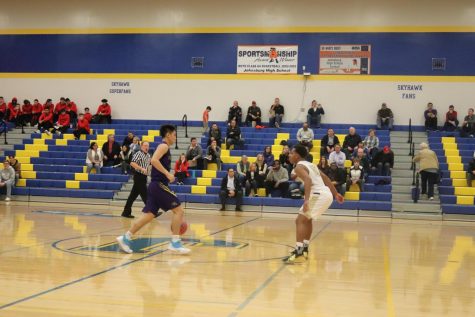 The boys basketball team competed in a Thanksgiving tournament that started on November 25 and finished on November 30. The tournament was held at Johnsburg High School for three of the four games and one of the games was held at Richmond-Burton High School. The varsity team ended with a record of 2-2,  with wins against Lakes and Johnsburg. The team fell short to Huntley and conference team Wauconda. The team is looking different with senior Joseph "Joe" Swanson and freshman Dominic Jankowski starting alongside three returning starters including Jamon Thomas, Tony Hines, and Jason Donohue.
Head varsity coach Todd Grunloh, is ready for the new season and believes that the team needs to work on building chemistry to get the best shot possible in every possession and continue to work with each other collectively every day until the team gets better
"The first tournament in basketball is always a tricky part of the season because we only get two weeks of practice before the games begin. There is an added challenge in that each of our first four opponents played four different types of defenses, so they're going to be difficult moments as we learn about ourselves and execute at the same time," Grunloh said.
There are some positive moments that happened during the Johnsburg tournament including a huge 80-48 win over Johnsburg with freshman Dominic Jankowski dropping 23 points, 7 rebounds, 7 assists, and 3 steals. In addition to that game, junior Tony Hines dropped a career high 30 points against rival lakes along with 7 rebounds, 3 steals, and 2 assists.
"The positives are that we finished 2-2 with a win over our biggest rival lakes. Also, I thought we played outstanding defense throughout the tournament, but we do need to improve our offensive efficiency and work for better team shots," Grunloh said.
Senior Jamon Thomas is looking to give his last year playing high school basketball his 100% effort and giving his last season his all. Thomas dropped 18 points in the first game of the season against Wauconda and combined for 36 points with junior Tony Hines with him dropping 18 as well. 
"I want to give my last year my all and put 100% effort into everything I do on the court. I'm just focusing on playing the game that I know, and if the shot is open, then I'll take it, but if it's not, then I'll pass to get my teammates some buckets because we're all scorers in our own unique way," Thomas said.
Leave a Comment