FAME ends on successful closing weekend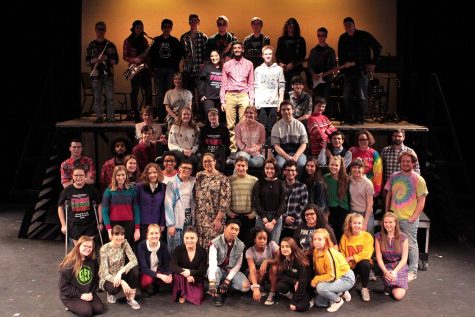 Green Room Theatre Company had a successful closing weekend for their spring musical "FAME". The show sold out half its' shows throughout both weekends. Students performed a total of six shows.
For many of the students, this was their last show with Green Room. Seniors will graduate in the Spring and will not be able to participate next year. Students were able to engage in the show in many different ways.
"I've been doing construction for the past four years, and I did it again because I do enjoy it. I'm sad it was my last show but it was a good show to end on. I look forward to seeing all the shows in the future when I come back," said senior Ian Doyle.
Students worked backstage and onstage in order to produce FAME. This included operating sound, lights, and props while the show was going on. Junior Sachin Dubey was in charge of managing the stage.
"It was a fun experience to stage manage because it was new and different. I was able to see how production works and progress," said Dubey.
The actors were able to enjoy FAME due to its' upbeat nature that encouraged the actors to have fun.
"FAME was so upbeat and ridiculously fun. Everyone in theatre is so passionate about what they're doing so they really put all their effort in, which makes the energy of the shows and rehearsals more vibrant and alive," said ensemble member junior Ciara White.
Leave a Comment