Dance team finishes season strong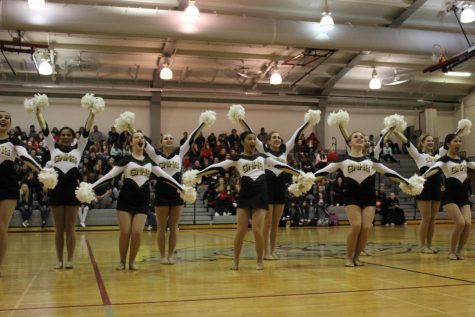 The varsity dance team came in seventh place at Sectionals at Warren High School on Saturday, January 19. The team scored 86.73, which was .2 points away from making State.
"It was hard for me to miss State by such a small margin because my team had worked so hard in the months leading up to State. Everyone worked together," said senior dance captain Nikki Boxer.
The team ranked fourth in the NLCC, and they came in fourth at the Central Invitational. The team worked really hard and dedicated most of their time to making sure they advanced to Sectionals.
"Every Tuesday morning, the girls were here at 5:30 a.m. so we had gym space. We added late night practices. We had different technique instructors come in and help clean and clarify," said dance coach Keeley Naughton.
There are nine seniors on the dance team, so the team will look very different next year.
"I have never worked with a team that has cared so much before. More than half of the team is made up of seniors, so they will not get another chance to go," Boxer said.
Despite how many girls are leaving this year, the coach is already preparing for the upcoming year.
"It's going to be a rebuilding year. We have a lot more incoming freshmen than we've had in the past," Naughton said.
The dance coach will continue to aim high for her team to be the best they can be and go as far as possible in the next years.
"I don't think my coach can do anything different next year to give the team a better chance. She believed in us and instilled in us the tools that we needed. She has been an amazing coach," Boxer said.
They have connected as a team this year to help with that process.
"If I could say one thing about the dance team this year, it would be that I have never met a group of girls who are more dedicated to being a true team," said varsity captain Nicole Boxer.
Leave a Comment