Ferris Bueller's Day Off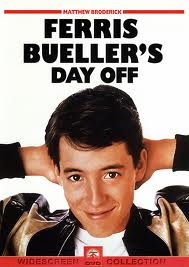 Everyone loves Ferris Bueller.  He's got a loving family, loving friends, and a loving girlfriend who he plans to marry. He's got it all and is a role model to his high school peers.  On the other side, there's his best friend Cameron.  His parents hate him, he doesn't know what he's going to be, and he's an uptight mess.  Before they graduate, Bueller wants to end the four years with a hoorah: ditching school to go to downtown Chicago!  The day is filled with exciting events including driving Cameron's dad's million dollar Ferrari, sneaking into an exclusive restaurant, catching a homerun ball at a Cub's game, and my favorite, getting onto a parade float and performing a song in front of the entire city.  The day is nearly perfect until Cameron wants to show his dad a lesson and destroys his prized Ferrari.  Ferris Bueller makes it home safe and completes one of the best days of all time. The end.
I personally love Ferris Bueller's Day Off, because the story's every high schooler's dream. His lifestyle is spontaneous and he does what he wants, but, at the same time, pleases everyone.  Although he's a fictional character, he gives the audience a new perspective on life: to live in the moment and have fun while you can.  He even states, "Life moves pretty fast.  If you don't stop and look around once in a while, you could miss it." In my mind, a perfect movie contains good comedy, excitement, and a message, and that's exactly the case that Ferris Bueller's Day Off does.
5 out of 5
Leave a Comment