Marching Knights host Color-A-Thon
The 3rd annual Color-A-Thon was hosted by the Marching Knights on April 23, 2017 with a variety of colors and a day full of laughter.
"The Marching Knights COLOR-A-THON is a 5K run/walk fundraiser that was held on Sunday, April 23rd at 10am. Participants could run, walk, hop, skip, jump, and dance through four color stations on the Grayslake North grounds," said band director Candace Edstrand.
All band students get involved in this colorful opportunity to get with friends and family and enjoy a day full of laughter and fun.
"I think I'm going to miss the atmosphere about it the most. Everyone is always just really excited to be there which makes it a lot more fun. It gets a lot of people in the community involved whether they have connections to the program or not," said senior Mason Olsansky.
The Color-A-Thon was also a great opportunity for students to enjoy what some of them love to do with friends while raising money yet having fun at the same time.
"This is a fun community-building event that will not only raise money for our band [and] music boosters but will provide a healthy opportunity for our students, faculty and their families, as well as members of the community," Edstrand said.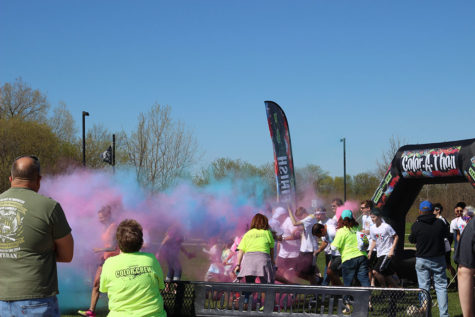 At the end of the day, the 2017 Color-A-Thon brought students, teachers and families all together on this day to not only have fun, but to also raise money for The Marching Knights.
Leave a Comment