Boys track competes with high level competition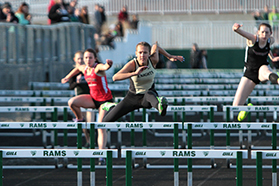 Taking sixth at Lake Forest, fourth at Warren, and sixth at Stevenson, boys track has had a pretty eventful year.
"Alex Moran (high jump), Michael Cabahug (100m/200m), and Liam O'Connell (3200m) continue to finish in the top three in their events at every meet," said boys varsity track coach Matthew Zaluckyj.
The main goals for the track athletes are to get a personal best, beat the other teams, and to make it to State.
"Dylan Ponomar is very close to making State. He barely missed state qualifying time last year," said junior Brandon Keaskowski.
Track comes with a lot of practice in order to reach where the team has gotten so far.
"Training is not about how motivated you are but rather how disciplined you are. It's great because if you train right, you give yourself the opportunity to step up to that starting line confident in your abilities and ready to blow everyone out of the water," said senior Dylan Ponomar.
The events in track include: sprints, middle distance, long distance, relay races, hurdling, long jump, high jump, pole vault, throwing, shot put, triple- jump, mile, pentathlon, and discus.
"Every year our goal is to bring the biggest group we can to the [IHSA] State Meet at EIU the last weekend in May, and we have many individuals who have an opportunity to do so," Zaluckyj said.
Leave a Comment