Eyes set on Regional title
Boys basketball continues success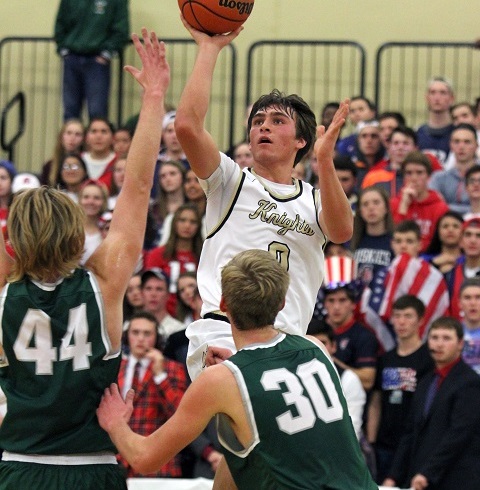 After a prominent performance at their Martin Luther King Jr. Tournament, boys basketball looks to continue their success heading into the second half of their season.
The Knights traveled to Washington, Illinois, in hopes to bounce back from an upsetting defeat to Prairie Ridge by gaining more experience against difficult teams.
"We go to Washington to play different teams that don't know us well, so we can learn to win in a variety of ways," said senior forward Aidan Einloth.
The Knights went 3-1 in their tournament only falling to Washington High School. The team not only gained much needed experience, but they were able to bond as a team on and off the court.
"In Washington, I think we really played well and got to bond better as a team. My favorite part about going to Washington was just hanging out playing on the court with each other then going back to the hotel and just having fun like one big family," said junior guard Jamal Thomas.
Team bonding not only makes playing more enjoyable, but it makes playing more cohesive, and in turn, more successful.
"My favorite part of Washington was just being together as a team and being able to create more team chemistry that we will need later in the season," said sophomore forward James Connolly.
After a Regional championship appearance last year, the Knights have been hungry for another chance at a title and look to win the school's first Regional title.
"[We look to] get a good seeding for the playoffs. Once it's playoff time, it's just one game and one opponent at a time," Einloth said.
Now the only thing left for us to do is just go out and win games as a team," Thomas said.
Leave a Comment