Wrestling looks to competitions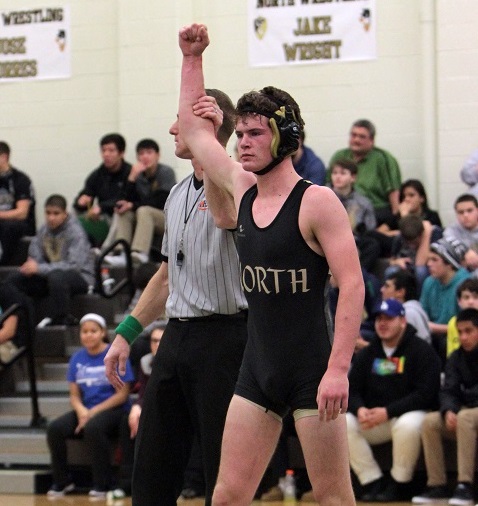 The boys wrestling team is wrapping up a successful regular season and looking towards Sectional and State competitions.
Although wrestling is primarily an individual sport, athletes are constantly looking to their teammates and coaches to push them during practice and meets.
"We're all a team, and as teammates, our job is to help each other get better in the wrestling room. We do that by being good competitors when we wrestle each other during practice and pushing each other to our limits every day," said senior Francisco Carrera.
As for this season, the boys have been able to recover well from losing a major part of their team, as well as state placer, Cody Sawyer, last year.
"We've had to have a ton of guys step up this season to help us fill weight classes that seniors held last year. It's definitely been a challenge, but we've really been able to do that well," said junior varsity wrestler Joseph Arroyo.
As for this season, many of the combined team goals have been fulfilled.
"We are doing fairly well. Our conditioning is looking better, and we've been wrestling better as a whole," Arroyo said.
At the Regional competition on February 6, Joe Arroyo and Jake Wright took second, Alex Moran and Sean Pearce took third to advance to Sectionals on February 13.
The boys will continue practicing and improving as they approach State.
"Going into Sectionals, I definitely have a lot of preparing to do. I know that there is a lot of tough competition there normally, and now that we are in 3A, I can expect it to be even tougher. I'm just going to train as hard as I can in the room, conditioning and lifting, in hopes that I'll be able to do well at Sectionals and have a shot to do good things down at State," Arroyo said.
Leave a Comment