Girls soccer builds on skills for postseason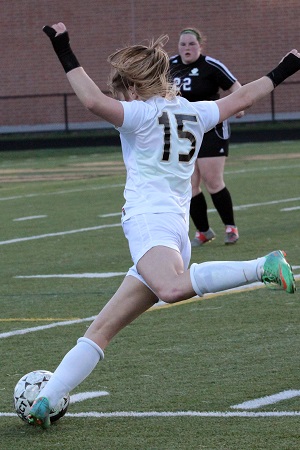 Girls soccer is on a roll with a record of 15-2-2 and hope to carry their energy and enthusiasm though the postseason.
The girls have made sure to make a set of important goals to reach, both for the team as well as individually, and have been successful in meeting them.
"Before the start of the season, we made sure to set team goals that we were confident in. One of our main goals is to be Conference champions of our division and have aspirations of becoming Regional champs as well. In order to strive to achieve these goals, we are focusing on progressing and improving every game and coming to realize our full potential," said sophomore varsity soccer player Camryn Cowperthwaite.
The team has succeeded in one of their goals, having a winning record, and are looking forward to finishing the regular season and competing for the title of Regional champions in postseason play.
"We only have three games left, but soon we will play Prairie Ridge. This team is strong, and they haven't lost a game in Conference. After that, we start preparing for Regionals," said sophomore Sydney Paez.
This season has been both tough and rewarding for the athletes and coaches.
"We have extremely tough schedules. Some weeks we'll have three games in five days, which is rough on our players. But I am proud of the work ethic, competitive spirit and love that these girls have for the game. I am confident that they will continue to work hard throughout the rest of the season," said varsity head coach Adam DeCaluwe.
Leave a Comment