North celebrates ten years of instruction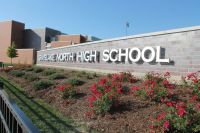 On the tenth anniversary of the day Grayslake North opened their doors, faculty reflect on how far the school has come and how much more they wish to accomplish.
To celebrate this event, staff have been given ten year commemorative t-shirts and are also working on a time capsule that will be buried in the courtyard.
"They started out with a few people putting some things in a time capsule so that ten years from now we can see how far we've come. For example, we put a Spark Week t-shirt in there because that was something that we thought was new and fun and innovative," said dean Linda Vecchie, who has been at North since the school opened.
When the school first opened, it looked very different than it does now. There were only 700 students, all of whom were freshmen from both Central and North's attendance zones. The following year, the sophomores were split back into their attendance zones and went to the corresponding high school.
"Having only freshmen was an experience because for the first time in my and many other staff member's careers, we noticed how young the freshmen really were. When freshmen are around seniors, they act a bit more maturely, but when they are around people all the same age as them, they don't have anyone to impress or look up to so they still felt like they were in eighth grade. There was just a different tone in the building that year with only freshmen in the building because they didn't have older kids showing them how a high schooler should act," Vecchie said.
Because the school was under so much construction and only had freshmen, traveling between the two schools became the normality for athletes and other students.
"At that time, we were combined with Grayslake Central for athletics and the Homecoming was there. That was just part of the growing pains, that crosstown traffic between both schools," Vecchie said.
Many teachers were moved from Central to North when the school opened, ready to bring new ideas and traditions to a brand new environment.
"Grayslake North was just a very new opportunity for us and many other teachers to start something new that was like our own, to have new traditions and build something from the ground up," Vecchie said.
For many years when the school was first established, it was known as 'Central's little sister', a school in the shadow of a building that had been the center of Grayslake and its surrounding areas for so long.
"We realized quickly that we didn't have to follow in Central's footsteps and that we were our own school and we could create our own traditions. And I think the ten year anniversary has given us the establishment to be ourselves a bit more. We are not 'the new high school', we are North, and that is a huge milestone. We are no longer in Central's shadow; we have our own strengths and accomplishments to be proud of," said English teacher Patrick Green.
But the progress doesn't stop here. Teachers and staff have already been hard at work making goals for the next 10 years.
"In the next ten years, I would like to see more service learning because we have such a fantastic program here right now and I think that having that continue would just be a great opportunity here. But for me, my biggest goal is to keep a positive environment here at North and for people to feel welcome here, which is the job of all staff here," Vecchie said.
For Dr. Roscoe, the goal is much simpler.
"My goals for the next ten years is just to never stop innovating. We should never stop making progress here," said principal Dr. James Roscoe.
Leave a Comment