Service clubs host Parents Knight Out
Parents Knight Out is a new event that took place on March 10. This event allowed staff members and D46 staff to have the opportunity to have a "night out" without their kids. They dropped off their kids at school and members of Public Service Practicum, National Honor Society and Link Crew entertained the kids for the evening.
PSP organized this event with the assistance of Mr. New and Mrs. Naughton. PSP came up with different activities to do throughout the night that consisted of a pizza party, arts and crafts, gym activities, a movie, and dance parties.
PSP strengthened their leadership skills as they worked to prepare the event.
"PSP had an opportunity to multitask and plan multiple different locations at a time. We had to figure out not only what's enjoyable for us, but what's enjoyable for people who are younger than us. It gave us a multitasking opportunity that PSP might not get with some of our other events," said PSP teacher Ashley Kunz.
Time management is one of the skills that PSP has learned from hosting other events this year.
"PSP needs a lot of skills in general because planning an event is not easy. We have a lot we need to do, so it helps us with our time management," said senior Angela Caliendo.
PSP continuously is working to train skills that'll benefit the participants later in life.
"For PSP to learn how to organize the logistics of an event, the PR, and the lead up to an event, that's huge. Those skills can later help you down the road in college or your professional career.
There's a lot of skills that you need to host an event, and getting access to that early on in your lives, it's awesome," New said.
This gave students the chance to expand their interests to see if working with kids is something that they would pursue in the future.
"We're always looking for ways for kids who might be interested in getting into education or childcare. This is an opportunity for kids to spread their wings and think that they could go into a field like that. I think the more opportunities we can offer our students to do these types of philanthropic giving back things I think the better," New said.
This event gave staff members the chance to learn more about how their students are outside of the classroom.
"It's a cool opportunity for students to connect to the personal lives of staff members. Teachers only really see students in a learning environment, and now they can see their students working with their own kids which gives a personal aspect to it," Kunz said.
Students were excited to participate in this event.
"I'm so excited because I love working with kids and playing with them. I'm also excited to meet some of the staff's kids because they always talk about them," Caliendo said.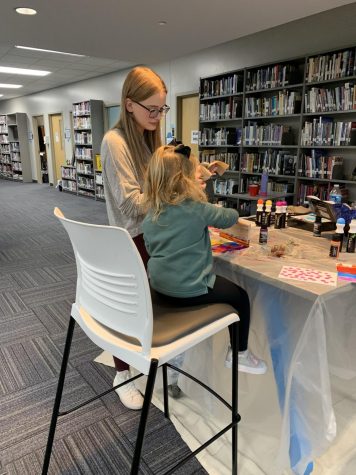 Students lead by example so the younger generation can follow in their footsteps.
"For younger kids to get to see how young adults should be acting as a high school student and striving to be that, the impact is huge. Our students are modeling what great kids are to a younger generation," New said.
Leave a Comment