Girls bowling completes their goals
Bowler Brooke Ellingsen moves on to State after achieving second at Sectionals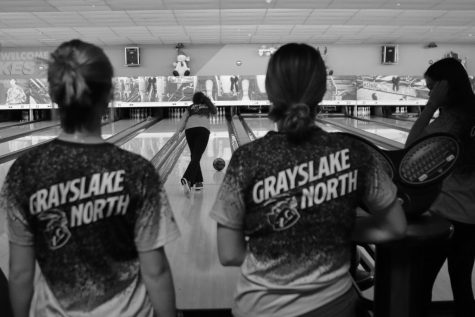 Junior Brooke Ellingsen placed second at the Sectional tournament on Feb. 11, qualifying her for theIHSA State tournament on Feb. 17-18.
"I think I was in a daze," Ellingsen said. "I did not realize that it was actually happening when it did so it is starting to sink in now." Ellingsen said she is nervous "because I've never been to State
before, but super excited," she said.
"I'm preparing more that I probably should be, and I'm super tired. But I think I'm perparing mentally for it too."
Overall, the girls bowling team has finished off their season with varsity ending up in third place at a bracket match and junior varsity in fourth place at their conference tournament.
"The season so far I think has been going very well. We have so many bowlers that are new to the program. It has been really nice to see them going from probably just ten pins to 100 pins. So I think that it has been a good season for the new bowlers," said junior varsity coach Claudia Arroyo.
Along with that, there has been much improvement from the team working hard at practices and tournaments.
"This team has improved so much over the last few months; it's insane," said varsity coach Gabrielle Silva.
Goals were set and met for the team as the members grew their skills at bowling.
"The goals for the season were like seeing how the girls grow; they have grown so much. Like I said going from ten pins to 20 pins. I have a bowler who scored 856 points in six games last Friday. So my goal is to see them score many more points every time," Arroyo said.
Along with team goals were personal goals from team members.
"My goals for this season were to learn how to bowl, get better at bowling and overall just have fun," said sophomore Amarianna Tovar. Varsity's averages were from 250 to 350, and JV's averages were from 100 to 170.
"Right now we had the conference tournament last Friday. We were in fourth place out of eight teams. So I think that right now it was a really good score that we got," Arroyo said.
Varsity had a lot of good moments at their tournaments "I would say towards the end of a tournament day is their best moment. I say this because they're so silly and they actually bowl better
because they aren't worrying so much about scores and just want to finish the tournament to go home.
The girls get exhausted from being up at 6:00 in the morning and getting home at 6:00 p.m.," Silva said.
At the end of the season, it was clear that girls bowling team worked hard for their tournaments and conferences.
"I'm very proud of each of them because it's a hard season going to the tournaments every Saturday from 7:00-4:00. It's really hard. So each of them worked really hard. They had time to go to the
tournaments. We were spending all Saturday there. It was a really nice season, getting to know each other. It was just really nice," Arroyo said.
Leave a Comment