FBLA members participate in the Northern Area Leadership Conference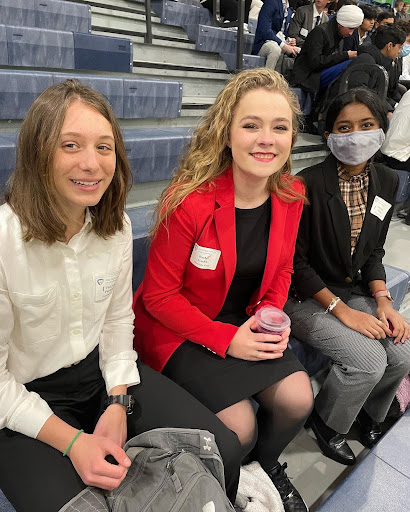 Future Business Leaders of America went to the Northern Area Leadership Conference. The conference was held on January 17 at the College of Lake County. Students could choose a category to compete in, and judges would rank them based on performance.
There were many events that took place in the conference. Every conference has different events, and for FBLA, there were workshops to improve skills. The students also got to vote for positions which included students from all schools in the northern area region.
"There's all like the positions like treasurer and president. And basically everyone gave their speech for why they want to be the new upcoming one. And then after that, we went to go and see the displays about everyone who's running. From there, there's a bunch of competitions that you signed up for. I signed up for public service announcement. There were some workshops, but I didn't attend any because they were all kind of when I needed to be somewhere else. In my opinion, the most fun part is voting. You got to vote on who you want it to be in a position. There were two delegates for Grayslake North. There was me and Rachel Garich. Then we just went to the final area to get the announcements, then that was it," said junior Q Adkisson
People have different reasons for participating in events such as the conference. Reasons for participation could be because it's a good opportunity, for fun or other personal reasons.
"I love the competitive events so much, and there's always fun workshops. You can see other events too. Not only do I get to compete in what I enjoy and like to do, but I also get to see everyone else's hard work as well. It's a lot of fun," said junior Rachel Garich.
There were different skills to work on and compete in at the conference such as broadcast journalism, art forms, cybersecurity and business topics. Students participate in workshops and competitions to improve their skills and learn.
"I did impromptu speaking; it was really impromptu. They gave me a prompt in a separate room, and I had 10 minutes to prepare a speech. Which I did, then I went and gave a formal speech to the judges right after that. It was really fun," said junior Jayashri Madan. 
Sometimes events can be restricted to certain people. Or people can only go if they meet certain requirements. The conference was open to all FBLA members, but only some students went.
"Anyone could go, but this time only four people went. It was me, Patrycja, Rachel and Jayashri," Adkisson said.
Events like conferences are beneficial, but they can also be a lot of fun. Learning new things and working on skills can be rewarding. At events there are also opportunities to meet new people and connect with others.
"My favorite part was meeting new people. I met a lot of FBLA members around our neighboring schools. I also met some of the people I've known since middle school. I met them again. I think that was my favorite part. I like networking with others," Madan said.
There are different ways that the event benefitted everyone that went. It could have been the atmosphere, talking with others that have the same interests, the feedback and other positive things.
"Everyone gets judges feedback if they did a live event. That I will benefit from. Also I just get to see what I do well in and what others think I do well, since you get the ratings back and you get scores back," Garich said.
Leave a Comment