Academic performance on tests declines after COVID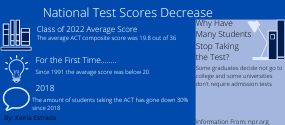 According to npr.org, recently national test scores around the U.S have been declining. Many students are deciding not to take their tests and for the first time since 1991, the average ACT score is below 20.
"National test scores have dropped over the last couple of years; the most recent data that came out was the first since the pandemic, so we are seeing the effects of the pandemic and students learning from home and how that has been impacting test scores," said school counselor Kevin Ball.
Due to students and teachers having to get used to remote learning, students' well-being was prioritized more than test scores during the difficult time in the pandemic.
"In my mind we know what the dip was. It was COVID related, so I think if in like five years we are still seeing a downward decline we will have a different conversation. I think we are going to slowly see things level off and if not starting to move back to pre-trends and not just in high school, in all grades, because I think that when students are in a school it's different than sitting at home. Like you're engaging in different ways. There is a sense of community; there's a sense that a teacher can give more regular feedback on just little things. It's hard. I think a lot of students had to self teach when they were in COVID. To no one's fault, it was just a hard time for teachers and students," said associate principal of curriculum and instruction Jeff Schagrin.
COVID has impacted learning for students, and schools are still working on getting back to normal.
"The simplest thing to pin it on is COVID. Obviously education was very disruptive during that time, and we are still recovering from that," Ball said.
Since the pandemic, students have been struggling with grades, and test scores have been going down these past years.
"I think we shouldn't read too much into national test scores. I'm not surprised to see a little bit of a dip coming out of the pandemic. I think it's too early to draw massive conclusions on the impact of them because I think COVID had created a learning system that none of us thought was perfect. We are all doing our very best. Also think we weren't so concerned during the pandemic about trying to teach them a test. We were trying to make sure the whole student was taken care of," Schagrin said.
Leave a Comment