Unos Poemas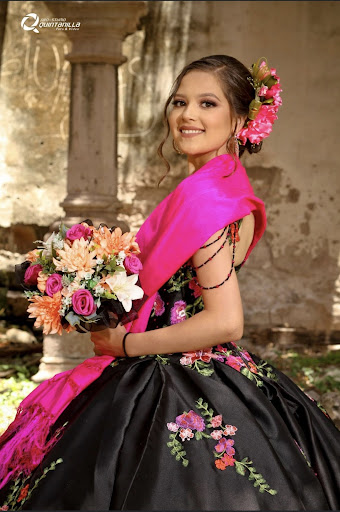 Los estudiantes en la clase de comunicación y cultura de Señora Padgette-Krause horario 2
escribieron poemas usando un modelo se llama "Soy De"
Soy De
Escrito por Kimberly M. Soto
Soy de ropa vaquera
From Boot Barn and Ariat.
Soy de el olor de tamales la mañana
de Navidad
Sabroso, delicioso, gustoso.
Soy de ramos buchones
Un ramo grande de rosas hermosas
y girasoles.
I'm from quinceañeras and bailes
con banda
De mi mamá y mi hermana.
Soy de abrazos y besos
De "no te vallas porque te roban" y
""vas a ver cuando lleguemos a la
casa".
Soy de la fe Católica.
Soy de Waukegan, Illinois y Zacatecas,
México
Mole con arroz, birria la Michoacana
de Fresnillo.
De la banda de mi quinceañera.
Where I'm From
Escrito por Lisbeth Munguia
I am from cuadernos
From Prismacolor and Ohuhu
I am from the olor de pan en la
noche en el fin de semana
Café claro, brilloso, rico
I am from hibiscus
Big and colorful
I'm from paseos en el verano and
creatividad
From Munguia and Macias
I'm from the salir a desayunar en el
fin de semana and salir 3-4 veces a
la semana
From inteligente and respetuosa
I'm from christiana, de poca fé
I'm from Chicago y Mexico
Enchiladas, Mole
From the ir a dave and buster con
mi hermano
The muy chistoso
Debajo de mi ropa en mi cajón
Vienen de lugares a donde viajamos
y fotos de mis amigos.
Soy de…
Escrito por Jose Jimenez-Ubera
Soy de Chicago
De Nike y de Cookies
Soy de mi casa pequena
Smells good, neat y alto
Soy de rosas rojas y huelen bien
Soy de celebrar Christmas juntos y
feliz
De Kim y Michelle
Soy de getting mad and short tempers
De trabajar y hacer dinero
Soy de no religión pero soy de Dios
Soy de Puebla, pozole y pollo
De mis hermanas chismosas
My sisters are mean
My heart
Memorias
Familia
Mi Poema
Escrito por Yesenia Tinoco
Yo soy de starbucks
De cake pops Y vanilla bean frappuccinos
Soy de olor de pozole por la tarde
Sabroso, delicioso, agradable
Yo soy de Clavel Bonitas y hermosas
Yo soy de roscas Y Bromeando con
mi familia
De mi papás Y mis hermanas
Yo soy de limpiando 2 veces a la
semana Y el olor de huevos con
frijoles por la Mañana
De es por tu bien Y vete a viajar el
mudo todavía que estas joven
Yo soy de una familia católica y de
Celebrando el señor del amparo el
Soy de La Grange IL & de mis bisabuelos
de méxico michoacán
Soy de Uchepos y champurrado
Soy de mis papa que han trabajado
mucho para darnos todo lo que
necesitamos
Leave a Comment