Spring blood drive a huge success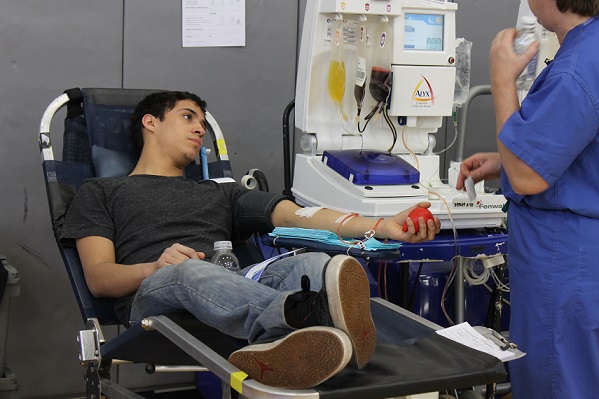 Over 900 lives were saved through blood donations that Life Source collected during the spring blood drive.
Just over 300 pints of blood were collected during the most recent drive, surpassing the schoolwide goal of 227 donations.
"Everyone who donates gives 500mls of blood, which is about a pint," said team account manager from Life Source, Francisco Martinez.
In order to have blood drawn, students must meet a few important qualifications.
"Anyone 17 and up can give blood, and there is no upper age limit. If you are 16, you can still give blood, but you need to have parental concent and picture ID. You also need to be within the confines of the school and be over 110 pounds," said Natasha Maccalla, donor collection specialist.
The whole blood drawing process takes about 45 minutes, including check in and recovery time.
"You begin the process by registering. Then you go over to answer some questions on computers and after that you have your vitals screened. After the screening is completed, you spend 45 to 50 minutes donating blood. The last step is about 15 minutes in the snack area where you eat something and have some water and just recover," Maccalla said.
After the blood drive is completed, the blood is sent to a Rosemont facility to be processed and manufactured.
"The blood is separated into three different categories: plasma, platelets and blood cells and distributed accordingly. The blood will be sent to the lab in a few hours. It will be distributed in two days, and in three days it will be administered and inside a patient," Martinez said.
"All the blood stays within Chicago and its surrounding suburbs. We distribute to UIC, Loyola, Rush, and many other hospitals that range in size and name."
The need for blood within the Chicagoland area leads to blood drives being held anywhere from schools to churches to mobile blood drawing stations.
"Our problem is that we don't have enough people coming to the Life Source center, so we make mobile centers where we can draw blood from other places," Martinez said.
Each donation of blood can save up to three lives.
"For most people, when they turn the TV on, they hear about gun shots, car accidents, traumas and that paitients have been taken to the hospital and are in critical or non-critical condition. When you hear that, the majority of the time it means that the patient has been administered some form of blood. Other recipients include newborn babies and cancer patients that loose many of their blood cells during chemotherapy," Martinez said.
The success of the blood drive relies on the peole that donate. For 45 minutes of time, lives can be save.
Leave a Comment