Math Team goes to Conference Meet
Grayslake North's Math Team attended their conference meet at Lakes Community High School on Thursday, January 27, 2022. 
The meet involved single person tests, two person teams, and eight person teams. 
"I feel like I did pretty decent on the single person test. I know I at least got a couple questions right," senior Aiden MacLennan said. 
The mathletes of Grayslake North placed in many events, including taking first place in the junior and senior 8 person test. 
"My favorite part of the night was winning the 8 person," senior Jared Kagay said.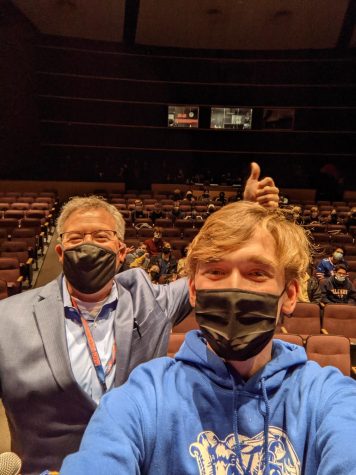 North placed in many other events, including Kevin Scanlan placing third in individual algebra 2, second in team algebra 2, German Berdnichenko placing 3rd in individual pre-calc, Graham Gatewood placing first in individual pre-calculus, and Mariah Liberman and Aidan Kim placing first in the freshman sophomore two person team. 
"My favorite part of the night was being able to hang out with all my friends on the team," senior Anthony Morris said. 
The next event the Math Team will be competing in is Regionals on February 26. From there, students will be able to qualify for the State competition. 
"To prepare, we simulate the process of the competitions during our weekly practices," Kagay said.
Joining Math Team allows for students to have a fun activity, which looks good on college resumes. 
"I like Math Team because it's a fun group of people that I get to hang out with. Join Math Team. It's good for you," MacLennan said. 
Anyone interested in joining can contact Alex DeGroh or Kimberly Vojcak. 
Leave a Comment