Marching band wins third at State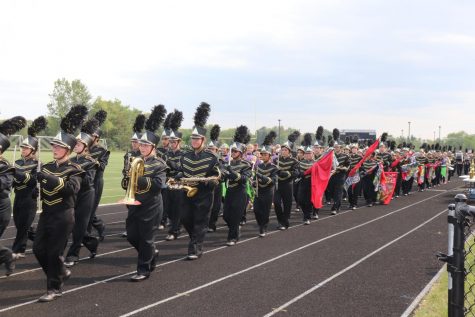 The marching band has been practicing since over the summer, both day and night, trying to perfect their craft for this season's competitions.
Recently, they just had the Marengo Settlers Day Competition, in which they were tied with Evanston in the overall performance. They took second place in their class and had the best drum majors in the class as well.
The marching band's biggest competition this year is the Illinois State Marching Band Championships, which is located at the University of Illinois at Urbana-Champaign. They competed and earned third place in Class 4A.
"Everyone was so excited once we knew we placed in third. We knew the other bands were tough to beat," said junior Olivia Gardiner. They worked hard all season to reach their goals and be successful.
"Our goal was top three, so we were all so proud of what we had done when our placement was announced. Everyone knew it was our best performance," Gardiner said.
"It was our best performance we have done," said junior Ben Huyett.
Even though the marching band has been placing high in competitions, junior Jordan Chumbley still thinks there are ways for the band to perform better.
"I would have to go with overall dynamics and dynamic contrast, but also playing your part to your best ability," said junior Jordan Chumbley.
Another marching band member, junior drum major Payton Chumbley, also thinks the band performed well. She still believes there are other areas they can improve on. The band was thinking of what to practice specifically leading up to their competition.
"I would say we could improve overall on just focus and commitment. Right now for the competition, we are spending time cleaning our drills so it looked good," Payton Chumbley said.
Aside from all of the competitions, the band members really enjoy being a part in the band as a whole.
"My favorite part is being with all my friends. Marching band is extremely fun and rewarding. You get to meet so many people who are all very kind," said junior Alejandro Meneses.
A lot of work occurs behind the scenes to reach the success that the Marching Knights have achieved.
Leave a Comment