Member of boys golf team qualifies for State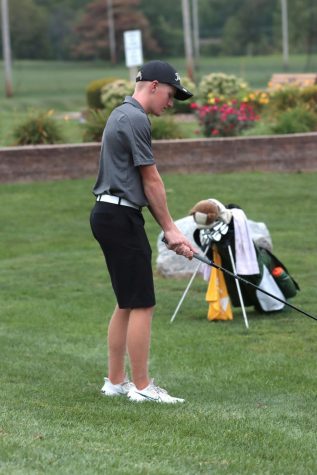 The boys golf team concluded a successful season with three students qualifying for Sectionals, and one qualifying for State.  Head Coach Tim Hough said, "We had one player who was All-Conference, Creighton Campbell, who placed 3rd. We also had three players qualify for Sectionals, and Creighton Campbell placed 7th and advanced to State."
This year's team played very well throughout the season, and even had freshmen and sophomores playing against juniors and seniors in most of their games. "My favorite thing about playing golf is having that perfect shot where you just hit it straight in the middle of the club face. That makes me, along with probably the average golfer, very pleased and confident," said sophomore Jack Calhoun. 
Coach Hough worked with team members to help them get better at the sport, and encouraged them to try to push past their limits and reach new heights in the game. He also told them that when they make a bad shot, they should not get upset and let it ruin their whole game. Also, when they make a great shot, they should not let that get in the way of making more good shots.
Senior Brandon Baker said, "I didn't improve as much as I wanted to this year, so that was a little disappointing, but this year's golf season was a lot of fun."
Coach Hough also described how golf is not just a solo sport, and it is actually also a team sport. He said, "I love how it is both a team and individual sport, where your score counts for yourself but also the team total. I also love that the players are their own officials and all the lessons that can be learned during circumstance."
At the State Finals, held the weekend of October 8 and 9, junior Creighton Campbell represented the GNHS team well. He shot a 76 (+5) in round one and a 82 (+11) in round two.
Leave a Comment