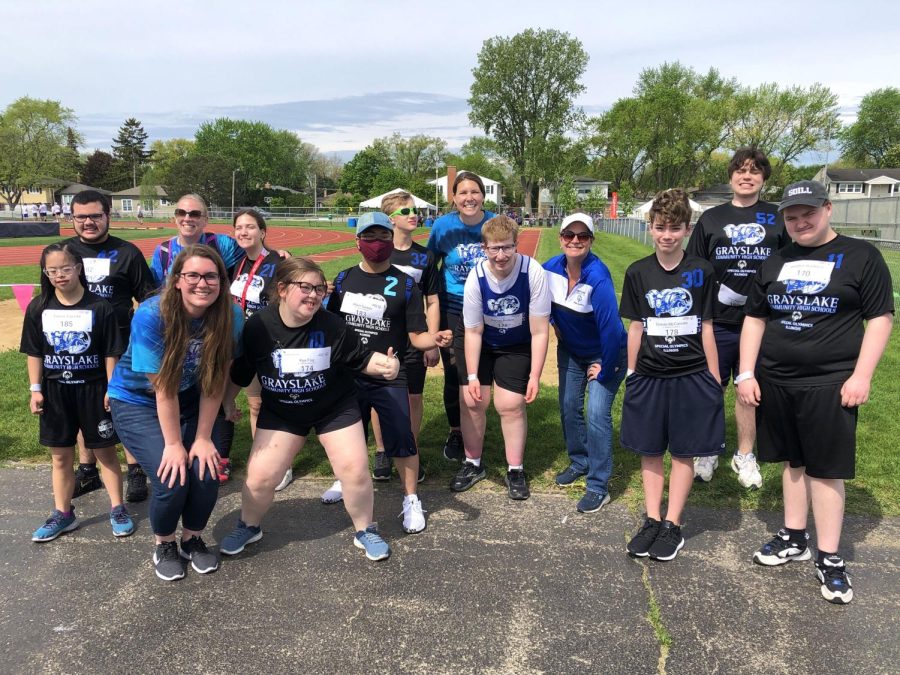 Phot by Kelly Benton
The Special Olympics team goes on with a successful season this school year, with some of the members heading to State.
"I think we were super successful. We had a couple kids that qualified for state competitions which is always fun, but I think the important thing is that we all learned something. We all improved and we all had fun," said coach Lori DeFiore.
Alongside coach DeFiore, Special Olympics had a new coach Jennifer Sparks.
"This was my first year coaching Special Olympics for Grayslake North High School, and it was an amazing school year! I'm so proud of all of our athletes and enjoyed watching them grow and improve their basketball and track skills. I'm honored to be their coach!" said coach Jennifer Sparks through email.
Special Olympics had many favorable games that helped them learn more about sportsmanship, one of those games being The Big Game.
"The Big Game is always my favorite event of the year. It is so much fun to watch those kids, depending on what team we play, but everybody has a good time, everybody shows great sportsmanship, and everybody works really hard," DeFiore said.
Team members of Special Olympics participated in both track & field and basketball for their sport seasons.
"Track & field season was a great season! Our athletes trained and worked very hard to prepare for the Spring Games at Prospect High School. All their hard work paid off as they took home five Gold, 10 Silver, and seven Bronze medals! The five athletes who received a Gold medal qualify for the State competition at ISU in June," Sparks said through email. 
Special Olympics helps the student members get involved in school sport activities and having a fun time doing so. 
"Special Olympics is an organization that is very important to me because it promotes inclusion, diversity and respect within the community. Everyone should be given the opportunity to participate in sports and to be involved in something that brings them joy and happiness," Sparks said through email.